Categories
Store
›
View by Vendor
› Animated Kids Bible
Genesis: Towering Pride and True Lies
Interactive Lessons 7-9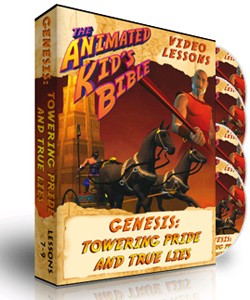 More Details ›
Animated Kids Bible Genesis: Towering Pride and True Lies Interactive Lessons 7-9
A Sunday school teacher's dream come true!
Animated Kids Bible
Genesis: Towering Pride and True Lies
Interactive Bible Lessons 7-9
This is the third set of the Animated Kid's Bible video lessons. This set has three of the Bible's most important stories, the Tower of Babel, God's challenge to Abram, and the story of Abram and Lot. Your kids will love these stories, and the built-in lessons will help them understand what they've seen.
The 3 story DVDs are loaded with fun, interactive features. Each one has a test for the kids to see if they really got it. It's not a dull Sunday School test, but a visually stimulating and fun way to quiz themselves. The DVDs also contain songs for your kids to learn that sing the praises of the Lord.
The fourth disc of the set has lesson plans so that you can do activities at home. These activities are fun, but they also get the kids to think about the stories and what they mean.
Features:
Contains Four Disks
Plays on all DVD players - Worldwide
Contains three major bible lessons
120 minutes of video (Samples)
Study handouts
High quality prints
Click here
for more details.
Save money - buy the entire Genesis set!
Individual Episodes also available via download:
Episode Seven
Episode Eight
Episode Nine
---
Related Products