Categories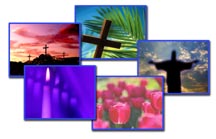 More Details ›
Worship Photos Easter Celebration & Spring Joy (Download Version)
Background images for projection
Easter Celebration & Spring Joy
An extraordinary and unique selection of original Easter and Spring photo images. Created especially for your Easter celebration, these also compliment any springtime service.
This
Download Version
of
Easter Celebration & Spring Joy
provides you with 135 original images (plus 80 variations).
View samples of this graphics collection
This download resource is available instantly after purchase by clicking on My Downloads at the top of any page.
---
Related Products