Categories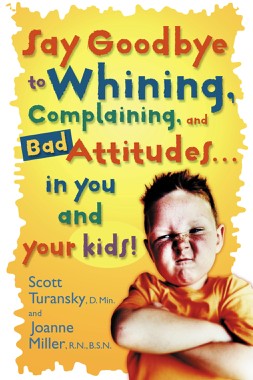 More Details ›
Say Goodbye to Whining, Complaining, and Bad Attitudes in You and Your Kids! Book
by Dr. Scott Turansky and Joanne Miller, RN, BSN of the National Center for Biblical Parenting
This book,
Say Goodbye to Whining, Complaining, and Bad Attitudes in You and Your Kids!
, will show you that honor is more than just behavior change. Honor comes from the heart. It affects the way people think, the way they act, and the way they treat others around them. Honor motivates parents to treat children differently. It gives children more constructive ways to interact with their parents. It helps siblings develop tolerance and patience. Honor builds incredibly strong bonds that, in turn, benefit all members of the family. This book shows you in practical ways how honor can transform your family.
Included are eight Family Together Times that help raise the awareness level of honor in your family. As you implement these ideas, you will see amazing results and your family will grow closer together.
Written by Dr. Scott Turansky and Joanne Miller, RN, BSN of the National Center for Biblical Parenting
This book can be used with the
Kids Honor Club
Curriculum.
Click here
for a sample lesson.
---
Related Products