Kidmin Talk #008 - November 8, 2011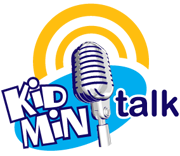 Duration: 00:42:47
Download MP3
The F Words of Children's Ministry
Welcome to the eighth episode of Kidmin Talk, the webcast show hosted by Karl Bastian, the Kidologist. Listen here on Kidology or subscribe via iTunes to listen on-the-go with your iPhone, iPod, iPad, or other mobile device.
SPONSOR: This episode is sponsored by K! Magazine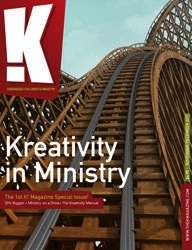 Check out Karl's article in the current issue:
"Unleashing Your Creativity" (page 86)
Check out the Digital Copy of the Kreativity Issue!
FEATURED MUSIC: Craig's Kids
www.worshipforkids.com
MENTIONED ON THE SHOW TODAY:
ABC's of KIDOLOGY: The Letter "F" = Fun and Family Ministry
FUN! Essential, but it is a means to an end, not the end. It must never become the goal or the way we evaluate our ministry. The question is not "is the ministry fun?"
But...
"...are kids coming to Christ?"
"...are they bringing their friends?"
"..are they learning the Word of God?"
"..are their lives changing?"
"..are they sharing Christ?"
"..are they staying close to Christ after they leave the kids ministry?"
Becoming "FUN" should never be the first order of business! Your educational goals, outreach goals, curriculum - FOUNDATION first, they make it fun to draw them in. BUILD SOMETHING WORTHY OF BEING FUN. Then, make it fun!
"Putting sugar on bad cake won't make it good cake!"
Just for FUN: I mentioned my "Waternator" outfit on the show, here are a few pictures of me in my Waternator outfit:
So, What makes something F.U.N.?
F = Funny! It makes kids laugh!
U = Unexpected! Don't bore 'em, kids love surprises!
N = New! What have you never done before? shake things up!
FAMILY MINISTRY! It's HIP! It's HOT! It's distracting us from kids ministry at bit.
Our mission is still the same, "make disciples of children." What has changed? We can't do it, shouldn't do it, in a vaccuum without parents. But we still exist to fill in the gap when parents can't, won't, don't - or are non-existent.
Beware of the Family Ministry Pendulum Swing! Don't stop doing what you are doing, just create a family-friendly ministry and be more of a resource to parents.
HOW TO CREATE A FAMILY INCLUSIVE MINISTRY
Invite Parents to Participate
Communicate More
Include Parents in Events (Rather Than Drop Off)
Equip Parents to Lead in the Home
Train Parents to Lead in the Home
Visit Parents to Listen and Learn
Ask Parents what would help them
Family ministry isn't about changing everything we do - it is about not working in a vaccuum any more so that neither knows what the other is doing. It's about opening up the dialogue between parents and church leadership and honestly addressing the fact that we are losing the battle for many of our kids. We need to team up to ensure that our children have the spiritual foundation they need to survive in this spiritually decaying culture.
Too much focus today is on creating "good kids" when we need to be focusing on raising up disciples of Jesus Christ. The church that takes Jesus Great Commission seriously in its own children's ministry, bringing parents into the struggle, will find a higher success rate than churches that merely try to implement some kind of program or curriculum as a "solution." There is no "solution" on the market that addresses the problem. There are only people who can pour their lives into lives of children, one child at a time.
That is what ministry is all about.
KIDMIN WINNER! Our winner this week is Stephen Hicks (@stevemhicks) and Todd McKeever (@tmckeever). They each win a FREE download of Craig Anderson's Craig Kids for guessing FUN and FAMILY first!
WANT TO BE A WINNER? Submit your guess or suggestion for next week's Kidmin Talk Key Word for the letter "F" - by E-mail, Forum, or Twitter.
Earn extra chances to win by promoting @KidminTalk via Twitter! If I see you promote the show, I just might send you a prize! It's been done before already!

NAME DROPPING: Did you get your name dropped on the show? Comment below!
If I drop your name on the show and you post to the comments below before the next show, you will win a super duper random Kidology prize! Want to increase the chances of Karl "dropping your name?" Interact with the show by E-mail, Forum, Twitter or the comments below! Let Karl know you are listening!
MUSIC ON THE SHOW: Craig's Kids
Bumper music by Rob Biagi Music available on Kidology! Booking info at RobBiagi.com
This week featureed WorshipforKids.com's CD: Craig's Kids
CONNECTING w/ KIDMIN TALK: