Movie Review: Star Trek
Membership Level› Guest
Author/Source: Scott Phillips
Topic: Movie Review, Reviews
A review of Star Trek, including description of the movie, areas of concern, teachable themes, discussion questions, and scriptures to use.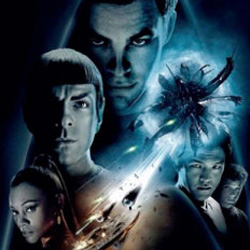 Overview

This Star Trek is the 11th in the franchise. This time we go back to where it all started (well kind of) and see how the Star Trek saga began. This movie introduces the cast of the original series in a different way, starting from the day that James T. Kirk (Chris Pine) was born and how he got involved with Starfleet. It also introduces Spock (Zachary Quinto) and his struggle as a child to choose which race (human or vulcan) he belonged to. This is not the calm and cold Spock that we watched develop into an emotional being; instead he starts out having trouble containing his emotions and struggling with love and fury. The rest of the cast is here, each portrayed by a young actor: the sharp and dry Leonard "Bones" McCoy (Karl Urban), the beautiful Uhura (Zoe Saldana), the funny and miracle working Montgomery "Scotty" Scott (Simon Pegg), the intelligent swashbuckler Hikaru Sulu (John Cho), and the charming and youthful Pavel Chekov (Anton Yelchin). There are also great roles played by Eric Bana (the villain Nero), Winona Ryder, Ben Cross, and yes, Leonard Nimoy himself!

SPOILERS AHEAD: This movie is less a documentary of the early lives of the original Star Trek cast and more an alternative story-history. Because of the intervention of a Romulan ship from the future the lives of the original cast are slightly altered. The appearance of the original Spock sets them on a course to discover their true destiny.

To its credit, this Star Trek has taken the road less fan-influenced and pursued a good story line and just made a good movie. He has a good script, good actors, and great effects (well they did enlist the service of George Lucas Productions). During all the action and great effects you see the development of building on character relationships. Which to me produced a very enjoyable and entertaining film of the year! Nice!

Star Trek starts off fast, slows down a bit for a few laughs, and then furiously culminates ... but not before setting up the franchise for the next decade. At its Trekkie heart, this is an origin story: how Captain Kirk got to the Enterprise, and how his good pals Scotty, Spock, Uhura, "Bones" McCoy, Sulu, and Chekov came to join him on that iconic vessel. Everyone of the characters hold true to their "traditional" roles and we are left with that desire to know just a little bit more about them – setting us up for a sequel?

The pacing of Star Trek is also excellent. It's not at all just action and special effects. It weaves in elements that haven't been part of the Star Trek playbook before. There's skydiving, car chase scenes, guys hanging from platforms by their fingernails, animal chases and the typical action sequences.

Concerns

First the intensity and action of this picture may be too much for the younger kids. The parents must really know if their children will be able to stay with the picture. There are some really suspenseful portions that may be too much for them. For example, there is a scene were Kirk is chased by an animal creature which is then eaten by another larger creature that then chases Kirk. I know my wife was next to me running and ducking the whole time. I don't know what was funnier, watching her or the scene.

Second, the language has some vulgarities. Probably nothing more than you would find in a normal TV broadcast of a couple hours but I still find them useless and no purpose in the story. Besides how can we advance as a society to a United Federation of Planets and still have these meaningless vulgarities in use.

Third, you have a romantic scene with Kirk during his academy days with a young lady. Granted they do at least have undergarments on but the scene may lead to questions from the younger children.

Finally, you do have a lot of action and violence and a few scenes were someone is killed and could be a little too much for the younger ones.

With all of these items I would be very selective on whom I let see this movie.

Teachable Themes
You are Created for a Purpose and Destiny

Through out this movie you find scenes where Kirk and Spock struggle with their purpose and finding their course in life. We flash through many years in this 2-hour movie and the decisions they make influence their course in life.


Friendships are Important

The original (future) Spock confronts Kirk about his friendship with Spock. He jokingly says "but he doesn't even like me". But the older Spock insists that in order for both of them to achieve their potential they must be friends.


Life is a Challenge

During this movie you find many obstacles and challenges that these characters have to face. Some are from their past and just the environment they lived in; others are choices they have to make. How we face these decisions in life reflect on our character.


Biblical References
Created for Good Works

Ephesians 2:10 For we are His workmanship, created in Christ Jesus for good works, which God prepared beforehand that we should walk in them.


Friendship

Proverbs 18:24 A man who has friends must himself be friendly, but there is a friend who sticks closer than a brother.


Character

Colossians 3:17 And whatever you do in word or deed, do all in the name of the Lord Jesus, giving thanks to God the Father through Him.


Discussion Questions
What things in your life would you change if you could? (Regrets?)
What are some of your most important friendships?
What positive choices have you made in your life?


Conclusion

Overall I found the movie faithful to the original saga. Each of the unique characters are evenly developed and you see all your favorite personalities. The special effects are, as you would expect from this type of production and the story line flows pretty even (although there is some jumping around) for the duration. As far as entertainment, it was a good movie. As far as teachable moments, there are a few but this would not be my first pick of a movie to find them. If your children are mature enough for the suspense, action, and few vulgarities this would be a nice day out with the family.