Movie Review: Kung Fu Panda
Membership Level› Guest
Author/Source: Spencer Click
Topic: Movie Review
A review of Kung Fu Panda including description of the movie, areas of concern, teachable themes, discussion questions, and scriptures to use.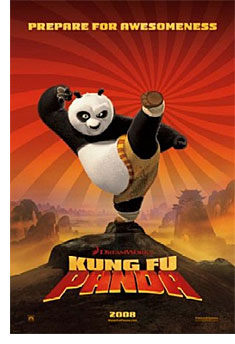 Overview

Master Oogway has had a vision... Tai Lung the fiercest and evil kung fu student ever is going to escape prison. The only one who can save the Jade Temple and Valley is the legendary Dragon Warrior. For many years – Master Shifu has been training five masters in the art of Kung Fu – Masters Tigress, Mantis, Monkey, Viper, and Crane are known as the Five. One of them is most certainly the Legendary Dragon Warrior.

The day to select the Dragon Warrior arrives – the Five face various trials to test their Kung Fu skills. When the time is right Master Oogway stops everyone and announces the Dragon Warrior has arrived. He closes his eyes, approaches the Five, and points to his selection... enter our hero! Po – the most unlikely of selections; someone who was seemingly an accident and a mistake.

Nobody believes in Po, including himself, nobody except Master Oogway. He is rejected by the other Masters and treated as an inferior, insignificant, worthless panda. Through a series of teaching times for Po, the Masters, and anyone paying attention Po transforms into the legendary Dragon Warrior – he defeats Tai Lung, saves the Temple, the Valley and the Day!


Concerns

Obviously there is a lot of Kung Fu fighting... a lot. It is to be expected in a movie titled Kung Fu Panda. There are a few sequences that are long and intense that could be frightening to young children. There are also several times featuring "spiritual" overtones; Master Oogway even fades away as a spirit at one point. They are subtle and not a major part of the movie, but they are there.


Teachable Themes
We Are Chosen / Believing In Yourself
Po is an unlikely hero. At one point Master Oogway is the only one who believes in him. Through the movie Po and everyone else learns to see more than what is on the surface.


Obedience
The Five disobey Master Shifu and attempt to stop Tai Lung on their own; they fail. If they had obeyed Master Shifu they would have been spared the pain of defeat.


Size Matters Not
At one point Po and Master Mantis are discussing if he is the Dragon Warrior or not – Master Mantis responds "Who am I to judge a warrior based on size?" Big or small it doesn't matter - you can do great things.


Biblical References
We Are Chosen / Believing In Yourself:

1 Peter 2:9 - "But you are a chosen people, a royal priesthood, a holy nation, a people belonging to God, that you may declare the praises of him who called you out of darkness into his wonderful light."



Obedience:

Colossians 3:20 - "Children, obey your parents in everything, for this pleases the Lord."


Ephesians 6:1 - "Children, obey your parents in the Lord, for this is right."



Size Matters Not:

1 Timothy 4:12 - "Don't let anyone look down on you because you are young, but set an example for the believers in speech, in life, in love, in faith and in purity."
Discussion Questions
We Are Chosen / Believing In Yourself:

What is something you would like to do that you haven't done because you don't think you can?
What can you do to accomplish your goal?
According to the Bible – when we accept Jesus what do we become?
Does God think you are valuable?



Obedience:

Have you ever done something you weren't supposed to?
What happened? Did you get in trouble? Did something bad happen?
Why should we obey those in authority over us?
Who should we obey?
<


Size Matters Not:

Who are some people in the Bible who were young, but did great things?
What is something you can do to make a difference in your school?
How old was Jesus when he taught in the temple?
Why did it amaze people so much?

Discuss this movie review
(Kidology Network Forums)