Movie Review: Prince Caspian
Membership Level› Guest
Author/Source: Brett Richmond
Topic: Movie Review
A review of Prince Caspian including description of the movie, areas of concern, teachable themes, discussion questions, and scriptures to use.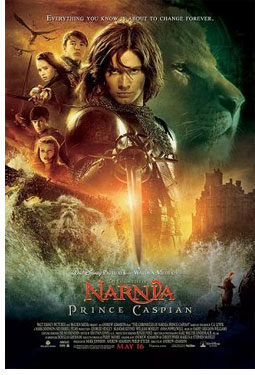 Overview

If The Lion, The Witch, and The Wardrobe was a nice civilized children's story, Prince Caspian is a contrasting savage story that is anything but nice and fluffy.

Prince Caspian takes place one year after the Pevensie family leaves Narnia and returns to war torn England. They are now living in the city, found longing for their days in Narnia, and at the same time beginning to feel "comfortable" in their native world. Meanwhile in Narnia, 1300 years has passed and man now rules the land that was once vibrant and alive, the Narnians have been hunted to extinction -- all but those who have retreated and are secretly living in the deep woods.

Prince Caspian, the heir to the Talmarine throne, becomes a tragedy of court politics and finds himself fleeing for his life in the deep woods where he comes face-to-face with the mythical Narnians. Now exiled, Caspian joins the Narnian forces in their efforts to reinstate him as King and bring peace and freedom to the land.

In the journey to save Narnia, the Pevensie children join forces with Prince Caspian and his army of Narnia. The Telmarine have gathered an army to finally extinguish the Narnian creatures, which leads to a battle between the sons of man and the Narnian creatures.

For 1300 years Aslan has been missing from the land, will he come once again to save Narnia? Will the Pevensie children be able to live up to their reputation as Kings and Queens of Narnia? Will the Narnian Army be able to overcome the armor-clad regimented army of the Talmarine?


Concerns

The moviemakers went to great lengths to keep the film PG so that families could bring their children, and at the same time, they kept enough suspense and intensity to tell a really good story.

The only real objectionable material will be the amount of violence and the intensity of some of the scenes. There is little blood and the film is virtually absent of gore. Most scenes where gore or blood would be present are more subtle than obvious. The movie does a great job in leading and hinting at things that don't actually happen on screen. In one scene, you are lead to believe that Peter decapitates a man. You don't see it but you see enough of the beginning of the scene and a slight hint at the end to realize what happened. For the young child this event will probably go unrecognized.


Teachable Themes
What Does It Take To Believe?
One of the consistent themes throughout both of the Narnia movies is faith and belief. In Prince Caspian, two scenes illustrate the theme of belief splendidly. As the Pevensie siblings are journeying towards their inevitable meeting with Prince Caspian, they come to the edge of a gorge. With no way across and falling the only way down, Lucy peers across the gorge. Suddenly she shouts out that she sees Aslan. When the others look, they don't see anything, all but Edmund express disbelief in what Lucy saw.

As the movie comes to a climax Lucy finds herself in the presence of Aslan, who asks her why she didn't come to him earlier. Lucy replies that none of the others saw him. Aslan then asks why her friends' belief would influence hers. Putting both scenes together will be a great illustration of belief and how we are to rely on what we believe and not be influenced by the belief of others.


Can Evil Lead to Good?
In one of the more intense scenes in the movie, Prince Caspian is steeped in his own desire for revenge and is lead by two of the White Witch's henchmen to a ceremony to bring her back to Narnia. The White Witch tells Caspian everything he needs to hear to give into this great temptation to use evil for "good". In the same scene, High King Peter is also tempted by the White Witch to use her powers bring about a great victory. Peter is driven by his pride and desire for esteem.

The scene is broken when Edmund thrusts his sword into the image of the White Witch ending the temptation. The scene illustrates how tempting it can be to use evil to bring about good. In Edmund's actions, there is a certain redemptive value from the previous movie in his destruction of the temptation.


Living on Your Own Power
In the first movie, the Pevinsie children, with the exception of Edmund, are the model of righteous behavior. When we are first reacquainted with the Pevinsie children, we find High King Peter acting in the least noble of ways. Peter is in a subway brawl with two other boys simply because they bumped into one another and some philosophical differences were exchanged.Rather than using diplomacy and words to bring resolution to the conflict, Peter decides to let his fists to the talking.

Later in Narnia, Peter is about to lead the Narnian army to battle when Edmund asks him "shouldn't we wait for Aslan?" To which Peter replies that Aslan isn't coming. In even more subtle actions and dialogue throughout the movie, Peter decides that it's upon his own power that he will succeed and he doesn't need any help from Edmund, Lucy, Susan, Prince Caspian, or Aslan.


Biblical References
What Does It Take To Believe?:

Matthew 9:27-29 - "After Jesus left the girl's home, two blind men followed along behind him, shouting, "Son of David, have mercy on us!" They went right into the house where he was staying, and Jesus asked them, "Do you believe I can make you see?" "Yes, Lord," they told him, "we do." Then he touched their eyes and said, "Because of your faith, it will happen."


John 5:24 - "I tell you the truth, whoever hears my word and believes him who sent me has eternal life and will not be condemned; he has crossed over from death to life."


John 8:13 - "Philip said, "Lord, show us the Father, and we will be satisfied." Jesus replied, "Have I been with you all this time, Philip, and yet you still don't know who I am? Anyone who has seen me has seen the Father! So why are you asking me to show him to you? Don't you believe that I am in the Father and the Father is in me? The words I speak are not my own, but my Father who lives in me does his work through me. Just believe that I am in the Father and the Father is in me. Or at least believe because of the work you have seen me do. "I tell you the truth, anyone who believes in me will do the same works I have done, and even greater works, because I am going to be with the Father. You can ask for anything in my name, and I will do it, so that the Son can bring glory to the Father."



Can Evil Lead to Good?:

Genesis 6:5 - "The LORD saw how great man's wickedness on the earth had become, and that every inclination of the thoughts of his heart was only evil all the time."


Proverbs 4:27 - "Do not swerve to the right or the left; keep your foot from evil."


Proverbs 8:13 - "To fear the LORD is to hate evil; I hate pride and arrogance, evil behavior and perverse speech."


Proverbs 10:28-30 - "The prospect of the righteous is joy, but the hopes of the wicked come to nothing. The way of the LORD is a refuge for the righteous, but it is the ruin of those who do evil. The righteous will never be uprooted, but the wicked will not remain in the land."



Living on Your Own Power:

John 5:30 - "By myself I can do nothing; I judge only as I hear, and my judgment is just, for I seek not to please myself but him who sent me."


Phillipians 4:13 - "I can do everything through him who gives me strength."
Discussion Questions
What Does It Take To Believe?:

What does it mean to believe in something?
Why do you believe in it?
What influences your beliefs? Is it good that these things influence your beliefs?
What does the Bible say about belief?



Can Evil Lead to Good?:

Have you ever done something bad/evil so that something good could happen?
Do you agree or disagree with this statement, why? "You should never do anything bad/evil, no matter what happens you have done evil rather than good"
What do these Proverbs say about evil? Proverbs 4:27, 8:13, 10:28-30
Can you find other Proverbs that talk about evil and good?



Living on Your Own Power:

When have you declined other people's advice on doing something in favor of doing it all on your own? How did it turn out did you have to go back and do it over again?
Have you ever tried to help someone only to be told, "No I want to do it myself"? How did that make you feel?
What does John 5:30 say about what we can do and whom should we be doing things?

Discuss this movie review
(Kidology Network Forums)