Movie Review: Ratatouille
Membership Level› Guest
Author/Source: Todd McKeever
Topic: Movie Review
A review of Ratatouille including a description of the movie, areas of concern, teachable themes, discussion questions, and scriptures to use.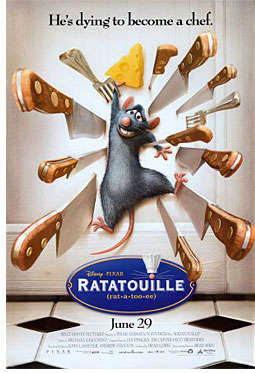 Overview

Remy (voiced by Patton Oswalt) is a rat who has a discriminating palate, along with an unstoppable urge to be a chef. He is inspired by a cookbook, Anyone Can Cook, written by a late five-star chef, Auguste Gusteau. Gusteau would probably give Emeril on the Food Network a run for his money today.

When Remy and his whole rat-clan must depart their country home quickly, Remy is separated from the other rats. By chance, he finds his way through the sewers of Paris, and winds up in the holy of holies: Chef Gusteau's restaurant kitchen, now run by his none-too-ethical sous chef, Chef Skinner (voiced by Ian Holm).

Remy teams up with young Linguini (voice of Lou Romano) -- the garbage-boy, pot-washer and general help -- who is desperately ill-equipped and just as desperate to keep his job. While Remy can understand Linguini and human speech in general, Linguini cannot understand Remy. But with practice, they work a system out where Remy is responsible for the cooking and Linguini, can as he said, "be responsible for looking human." Remy sits on Linguini's head and pulls at his hair to direct Linguini's hands and arms. Remy is the chef; Linguini is his means.

Can they meet the high standards of the infamous restaurant critic, Anton Ego (voiced by Peter O'Toole)? Well, of course... this is a movie with a happy ending. But how they meet those standards, with the aid of Remy's family, is where the fun of it lies. In the end, nothing will keep this rat down or keep him from accomplishing what he has set out to do and become.

In this overview, I would not do it justice if I missed out on at least mentioning that the computer animation was vibrantly three-dimensional. Paris looks romantically appealing here. The film is hyper-realistic about physical textures -- you can almost feel Remy's velvety ears – and is exuberantly cartoonish about motion physics. My mother in-law had commented that the animators had done such a fantastic job of the animation that it appeared movie-like most of the time.

Ratatouille is Pixar's way of making movies, in my opinion, by taking the time to create something outstanding, not chasing after shortcuts, and making the rest of the animation industry look like stick-figure factories.


Concerns

I have searched for concerns and the few that I have come up with are weak at best. But here they are: the time of the whole movie could be a little lengthy for the very young. Also, at first it could appear glamorous and OK to misguide people in the truth. But as the movie went on, you watch an internal struggle for bearing the truth that Linguini deals with until he comes out with the truth. The word "hell" is uttered once in the film, in the context of Chef Skinner welcoming a newbie Linguini to his kitchen: "Welcome to Hell!"


Teachable Themes
Teamwork
This was a strong theme throughout the whole movie. It obviously started between Remy and Linguini as they develop their system of cooking and communication by pulling on Linguini's hair. Then you have Linguini and Collette (Linguini's co-chef and female interest). Collette takes the time to mentor Linguini in better ways of being a chef. Lastly, I will mention a scene where Linguini's whole cooking team walks out on him when he finally tells the truth. After this situation, you can see how teamwork saves Linguini's reputation.


Passion/Purpose
Excellence matters, says Remy. And he tries to awaken his friends to a new world of flavor. Here's a story about claiming your passion/purpose, and pursuing it with excellence, whether you make big bucks or not. It urges us toward an appreciation of excellence.


Biblical References
Importance of Being a Team:

Romans 12:4-6 - "Just as each of us has one body with many members, and these members do not all have the same function, so in Christ we who are many form one body, and each member belongs to all the others. We have different gifts, according to the grace given us." (NLT)


1 Corinthians 12:21-26 - "The eye cannot say to the hand, "I don't need you!" And the head cannot say to the feet, "I don't need you!" On the contrary, those parts of the body that seem to be weaker are indispensable, and the parts that we think are less honorable, we treat with special honor. And the parts that are un-presentable are treated with special modesty, while our presentable parts need no special treatment. But God has combined the members of the body and has given greater honor to the parts that lacked it, so that there should be no division in the body, but that its parts should have equal concern for each other. If one part suffers, every part suffers with it; if one part is honored, every part rejoices with it." (NIV)



Passion/Purpose:

Exodus 9:16 - "But I have raised you up for this very purpose, that I might show you my power and that my name might be proclaimed in all the earth." (NIV)


Proverbs 16:3 - "Put God in charge of your work then what you've planned will take place." (The Message)


Proverbs 20:18 - "Form your purpose by asking for counsel then carry it out using all the help you can get." (The Message)
Discussion Questions
Importance of Being a Team:

What is your favorite team sport? What are the different positions and how do they work together?
How important is each part of your body? Is one part more important than the others?
What does 1 Corinthians 12:21-26 say about the importance of each part of the Body of Christ?



Importance of Having Passion/Purpose:

What do you find yourself passionate about? How do you show it?
What purpose do you feel God has for you? When have your passions conflicted with Gods purposes?
How can you discover your purpose/passion?