Review: What's in the Bible
Membership Level› Guest
Author/Source: Henry Zonio
Topic: DVD Review
A look at Phil Vischer's new DVD series, "What's in the Bible?"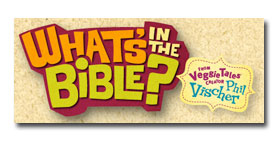 For those of you who might live in a wasteland devoid of any children's ministry, Phil Vischer is the creator of the ever-popular
VeggieTales
videos. Unfortunately, Phil Vischer no longer runs Big Idea, the company that owns
VeggieTales
. On the flip side, Phil Vischer started a new company called Jelly Telly. You can check it out online at
JellyTelly.com
!
When you check out Jelly Telly, you will immediately recognize Phil Vischer's talent at creating characters who are funny and captivating. Phil has an amazing intuitive sense at how to capture the attention of a wide age span that boggles my mind. Fortunately for us, Phil is taking his new characters from the web-based videos on Jelly Telly and joining with Tyndale House publishing to create a new DVD series entitled
What's in the Bible?
. Luckily, I received a preview copy of the first two episodes from Tyndale to review for Kidology.
This new series is geared to tell the overarching story of God, his love for us and his plan of redemption that is present throughout the entire Bible. The great thing about it is that Phil tells this story as he walks viewers through each book of the Bible! The series is slated to have 13 DVDs in all. In addition to walking through each book of the Bible, this new series will also teach on topics that cover who wrote the Bible, why it's put together the way it is, how we can be sure it's trustworthy, etc.
I watched the videos a few times now and in different settings. I watched it by myself, with my intern, with my kids (ages 2-10), with the elementary kids at my church, and with the Kindergarten class at my church. I found that there is something in the videos for all of these age groups!
The videos have many characters in different settings and they jump from character to character in their settings creating a lot of visual variety. Also, the humor in it ranges from subtle jokes that adults will pick up on to slapstick-style humor that makes a two-year old laugh.
The length of these videos (2 30-minute episodes per DVD) are a bit long, though, for a church teaching setting. I think these videos, as they are, will be great for families to have. Children will be able to watch them and learn new things depending on where they are developmentally. While there are some difficult words and concepts ilke "What is the Canon?" and some of the more technical aspects of the Bible, there are great overviews of key stories in the Bible that point to the larger story of God's love and redemption.
In order for these videos to be more useful in a church teaching setting, there will need to be curriculum (which is in the works) developed to help convey the content in age-appropriate ways. The videos will also need to be broken up into more bite-sized portions that can be used as additions to what's being taught rather than the videos doing the majority of the teaching.
Overall, I think Phil has done it again! He has managed to create an amazing video series that will speak to children (and adults) of all ages. I highly recommend these videos for churches and families. (And be on the lookout for companion curriculum coming soon!).