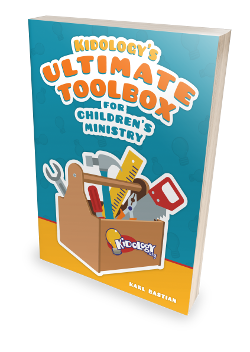 Kidology's Ultimate Toolbox for Children's Ministry
Equip yourself with the tools you need to build a ministry that will last!
Pastor Karl has been building solid children's ministries and developing leaders for decades and now he has put together a Toolbox loaded with his sharpest tools! In addition to the helpful tools in this 336 page book, Karl has added over 40 bonus downloadable PDF forms and videos to sharpen your ministry skills.
This Toolbox covers these five area of ministry building skills:
Personal Tools
Leadership Tools
Teaching Tools
Training Tools
Outreach Tools
If Children's Ministry leadership was a construction site, you'd want the sharpest, time-tested tools recommended by a veteran who had worked on a wide variety of projects.
"If you every wished there was a blue print for building a children's ministry - I've got good news for you - there is! Karl Bastian has written it!" - D.B.
336 pages, softcover, published by RoseKidz. Bonus materials available at Kidology.org/toolbox
Prefer digital? Download right now and SAVE $5!
---
Related Products