Categories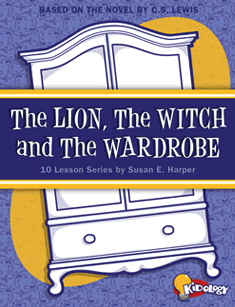 More Details ›
Narnia #1: The Lion, the Witch & the Wardrobe 10-Lesson Series
Start the journey into Narnia, where Good battles Evil!
Kidology's
10-lesson companion curriculum
series for
The Lion, the Witch & the Wardrobe
explores the principle of good vs. evil found in C.S. Lewis' inaugural installment of The Chronicles of Narnia.
Written by Susan Harper, this
downloadable study
includes everything you need to plan, organize, and teach the adventures that start with this famed book. Introduce the kids in your ministry to Aslan, the White Witch, and of course, Peter, Susan, Edmund, and Lucy Pevensie.
Get more info and download a sample
.
More Narnia adventures...
Extend your Narnia collection with Kidology's
Prince Caspian
and
The Voyage of the Dawn Treader
curriculum series!
Learn more about the Narnia Seires
Delivery of your curriculum will be via a secure download link sent by e-mail shortly after purchase. Links expire 7 days after purchase.
---
Related Products