Categories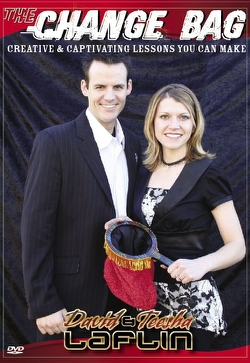 David and Teesha Laflin's Change Bag: Creative and Captivating Lessons DVD
Share and teach with these amazing illusions!
On David and Teesha Laflin's Change Bag: Creative and Captivating Lessons DVD, illusionists David and Teesha Laflin share 15 captivating lessons with a change bag, all of which can be presented using simple, everyday items. For each lesson a scripture reference is given to help enable you to share a complete lesson. As a bonus, David and Teesha will share three extra change bag lessons, as well as some amazing footage from their live show!

The change bag is an extremely versatile tool that, when used properly, can help transform an ordinary lesson into something extraordinary. This prop is very easy to learn, but it can be used in hundreds of different ways. It can make an object appear, disappear, or transform into something completely different.
---
Related Products