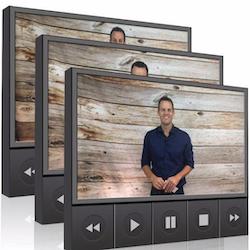 More Details ›
Illusions You Can Make Mega-Bundle Download
David and Teesha Ministries
David and Teesha Laflin bring you 30 illusions and incredible tricks you can perform with everyday objects. Watch as David and Teesha not only perform each illusion but share the message with it as well. Then, go behind the scenes to learn how each trick is done. For every illusion, a scripture reference is given to aid in further teaching.
Titles include:
Paper to Money
Number Prediction
Vanishing Glass
Magic Paper Bag
The Right Choice
Impossible Penetration
Three Ropes to One
Cut and Restrawed
Envelope Prediction
Walking Through Paper
God Will Make a Way
Be Transformed
Priceless
The Floating Pencil
Colorful Mind Reading
Shielded by Faith
In a Moment
How Sweet It Is
The One and Only
Restored
Messed Up Money
What God Wants
Nuts
Nothing Can Separate Us
Answer the Call
Set Free From Sin
Knot Possible
The Lord is Our Healer
Captured by His Love
The Meaning of Life
Click here
for detailed video list.
Watch a sample video.
This download resource is available instantly after purchase by clicking on My Downloads at the top of any page.
---
Related Products