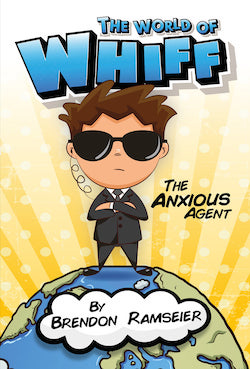 More Details ›
The World of Whiff Book - 5-Pack
The little book with a BIG mission!
Scott Wheffzall is like your average ordinary 12-year-old. He likes video games, movies, and sports. He's really good at video games, not so good at sports. Scott has played for the Joseph City Lions baseball team for 4 years, with 0 hits. That's why they call him Whiff.
The thing that makes Whiff unlike your average ordinary 12-year-old is... he's a secret agent. Well, he's kind of a secret agent. He thinks he's a secret agent? It's complicated. You see, Whiff gets anxious a lot. So, becoming an agent helps him get through different missions during the day. Along with his boss at the "Commission", Whiff's goal is to rid the world of evil and get through his mission each day. In doing so, he hopes to help other kids know they can get through their missions, too.
The World of Whiff is a little book with a BIG mission! With the help of the Handbook and the Great Commissioner, Whiff takes on missions that involve being the new kid, facing first-time experiences, overcoming uncontrollable circumstances, and doing things he's never done before.
Kids ages 6-12 are encouraged to read the short mission reports with their parents and discuss each mission together using the agent notes at the end of each report. These discussion times will be a great opportunity for parents to "check-in" on how their agents are doing on their mission each day.
This book can be used as a group study or at home with parents. You can purchase a
single copy
as wall!
Download a sample chapter.
---
Related Products