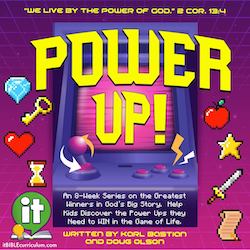 More Details ›
it Bible Curriculum - Power Up! Series Download
8-Week Video Game Themed Series for Elementary Children's Church
All Access Members get 75% off new-release series', and 50% off all other it Bible Curriculum units!Help Your Kids be WINNERS in the Game of Life!POWER UP!
is an 8-week video game series your kids are going to
LOVE
! It covers 8 Winners from the Bible and reveals what Power Up helped each to succeed! Help your students discover the Power Ups they need to WIN in the Game of Life!
Power Ups your Players will earn:
We Defend What We Love
Faith Makes the Impossible Possible!
God Will Never Let You Down
What's Right is not Always Popular, and What's Popular is not Always Right
Inner Strength is the Strongest of All
God's Way is Always the Best Way
You Are Right Where God Needs You
Jesus Won So You Don't Have to Lose 
Includes
Wild Buildz Videos
featuring Nehemiah
#themaddgamer
showing off his mad skills while participating in an 8-part Minecraft building tournament. (8 videos)
There are
OVER 100 DOWNLOADS
- videos, handouts, game files, screen images, posters, customizable graphics, fun audio fx and more! We give you the tools you need to be
AMAZING!
Click here
for more details about your Power Up download! You can even
download a sample lesson
!
Every unit from it Bible Curriculum includes a complete biblically solid, fun, creative lesson your kids will love!
Launch it, Play it, Watch it, Tell it, Teach it, Show it, Find it, Hide it, Live it, and Take it.

Optional: POWER UP Graphics - Series In A Box is perfect for those who like to create their own bonus media. This graphics series in a box provides templates and blank slides so you can customize your own media and promotional materials.

Online Posting Permissions

This download resource is available instantly after purchase by clicking on My Downloads at the top of any page.
---
Related Products