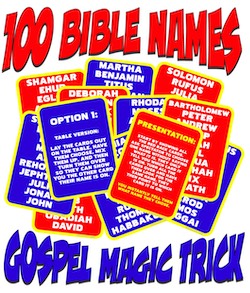 100 Bible Names Magic Trick
This is an EASY but AMAZING magic trick using 100 Bible names
Presentation:
Start by showing all the red-backed cards. Ask the spectator to choose one Bible name without saying what it is. They only point to which card it is on. Turn all the cards over and have them look for the same name on the blue side. They then point to which card it is on.
YOU INSTANTLY TELL THEM WHAT NAME THEY CHOSE.
Find out the simple secret to this amazing trick! Your download includes all the cards you need with 100 names plus full instructions. Includes a table version and no-table version.
Watch the demonstration video on Facebook Live!
All Access Members
can
download this trick for FREE!
This download resource is available instantly after purchase by clicking on My Downloads at the top of any page.
---
Related Products