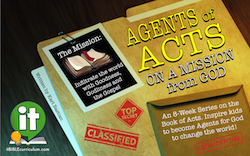 More Details ›
it Bible Curriculum - Agents of Acts Series Download
8-Week Series for Elementary Children's Church on The Book of Acts
All Access Members get 75% off new-release series', and 50% off all other it Bible Curriculum units!Inspire kids to become Agents for God to change the world!Agents of Acts
is an 8-WEEK SERIES FOR ELEMENTARY CHILDREN'S CHURCH from Kidology's
it Bible Curriculum
. You are going to love it!
This spy-themed series challenges kids to become followers of Agent 01, Jesus, as they go on missions for the G.O.D. (The Global Operations Director) to accomplish the Mission of Infiltrating the world with Goodness, Godliness and the Gospel.
Your kids will enjoy secret codes, puzzles, missions, and more, all while being challenged to make a difference in their world as Agents for God!
Your agents will learn that:
God wants YOU to tell the world about Him!
God's Spirit is in you to help you live for Him!
God wants to do amazing things through you!
We must obey God rather than people!
The Good News is found in God's Word!
The Good News is worth everything!
The Good News can transform anyone.
You are never too young to make a difference in the world.
Agents of Acts
features 8 videos of Undercover Agents who will give first-hand reports on their missions and progress in acting as Agents for God.
There are
OVER 100 DOWNLOADS
- videos, handouts, game files, screen images, posters, customizable graphics, and more! We give you the tools you need to be
AMAZING!
Click here
for more details about your Agents of Acts download! You can even
download a sample lesson
!
Every unit from it Bible Curriculum includes a complete biblically solid, fun, creative lesson your kids will love!
Launch it, Play it, Watch it, Tell it, Teach it, Show it, Find it, Hide it, Live it, and Take it.
Online Posting Permissions
This download resource is available instantly after purchase by clicking on My Downloads at the top of any page.
---
Related Products