Categories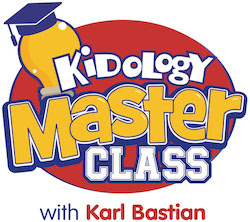 More Details ›
Kidology Master Class #02 - The Proactive Leader
Become the leader you've always wanted to be!
Join Pastor Karl Bastian, founder of Kidology.org, for a 6-week Master Class and take your ministry to the next level!
Class #2 - The Proactive Leader - runs March 2nd - April 10th.
If we aren't careful, Children's Ministry Leadership can quickly become merely reacting to everything that happens as we wrestle to prepare for next Sunday. Advance Planning? Goal Setting? Growing the Ministry? Expanding Outreach? These become dreams that never become reality. There is always "next week," right? Discover the secrets to becoming a Proactive Leader! A proactive leader knows how to harness vision, build teams, set goals, and plan and transform dreams into reality. Join Pastor Karl to discover insightful tips and practical tools to help you LEAD your ministry forward!
See what you get when you register.
Once registered, watch your inbox for special instructions to help you prepare for the class!
Textbook Requirement:
Kidology's Ultimate Toolbox for Children's Ministry
. Purchase the book and get the digital version FREE! The same textbook is used for the first five Master Classes, so there is only one book to purchase.
View future classes
in this series.
Your introductory materials will be delivered to you via a secure download link sent by e-mail shortly after purchase. Links expire 7 days after purchase.
---
Related Products