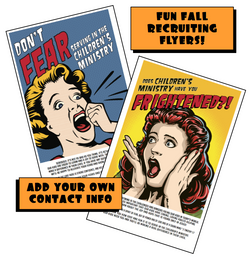 More Details ›
Recruiting Tool: Don't Fear Kidmin!
Your recruiting should be fun and attractive!
All Access Members
can
download this recruiting tool
for
FREE!
Recruiting is a never-ending job! That's why it's important to be fresh and original in how we approach prospective volunteers. The invitation to serve children must be creative and positive, but consistent!
Don't Fear Kidmin! Flyers
Let's face it, some people are afraid of serving with kids. They may not feel skilled, experienced or knowledgeable about it, or they may just be hesitant because they're not sure what to expect. These fun flyers encourage folks in a fun way to overcome their fears and give it a try, assuring them that you'll work with them. And if it's not a match, no worries - you'll help them find the place that is just right for them.
Get more info.
This download resource is available instantly after purchase by clicking on My Downloads at the top of any page.
---
Related Products