Categories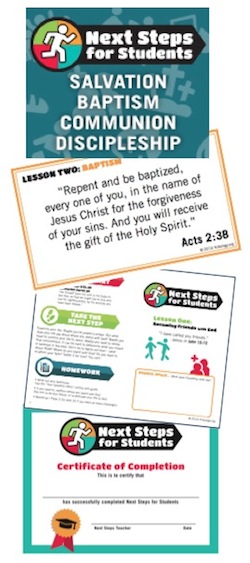 More Details ›
Kidology's Next Steps for Students Resource Download
Salvation Follow Up Resources by Karl Bastian
Next Steps for Students
is a four week class for churches to use when helping to prepare middle school students for the "next steps" in their spiritual journey. It is designed as a tool to help parents ensure that their children understand Salvation, Baptism, Communion and Discipleship.
This is a course Pastor Karl Bastian wrote and has taught for over twenty years in his own church. While it has been used by hundreds of churches for decades, it has recently been revised, updated, and improved to make leading it even easier.
The materials can be downloaded once, then used year after year! Included in this single purchase:
Handouts for students
Teacher guides
PowerPoints
Memory verse cards
Additional elements
Parents will rave as you partner with them to help their children truly understand these important steps in their spiritual journey.
NOTE: This STUDENT version is based on the popular
children's version, Next Steps for Kids
. It is the SAME content, just branded as Next Steps for Students so that it can be used with older children as well. (We know they don't want to be called kids at that age!) You can add the complete Kids Version for just $20 more -- only available at time of initial purchase.
Click
here
for more information on how Pastor Karl uses this resource at his church.
Delivery of your purchase will be via a secure download link sent by e-mail shortly after purchase. Links expire 7 days after purchase.
---
Related Products