Categories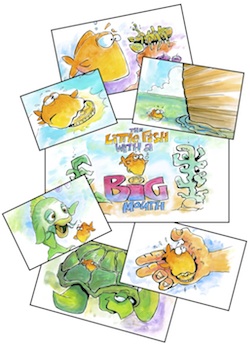 More Details ›
Little Fish with a Big Mouth Video Lesson
Story of Matthew 17 Illustrated
When we obsess about what gifts and abilities we don't have, it becomes easy to forget about the divine plan God has for each of us, just as we are. We are all uniquely created to serve a special purpose.

Inspired by a miraculous account found in the Gospel of Matthew, The Little Fish with a Big Mouth is a warming tale that will touch the hearts of children and adults alike.

"God doesn't make mistakes" is the message in this video lesson, written, illustrated and narrated by Mark Pié.

The Little Fish with a Big Mouth is ideally targeted to kids between 4 and 8 years of age. The video is complimented with coloring pages and lesson notes for ideal classroom or Sunday school presentation.
Delivery of your game will be via a secure download link sent by e-mail shortly after purchase. Links expire 7 days after purchase.