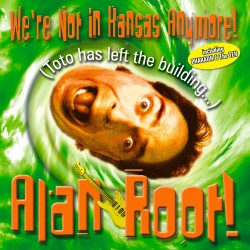 More Details ›
Alan Root's We're Not in Kansas Anymore CD Download
WE'RE NOT IN KANSAS ANYMORE (Toto has left the building)
is perhaps Alan's best selling project. The title became necessary after Alan deemed none of the song titles were quite descriptive of the technicolor kid music that happened here! Thinking to himself, this is a whole new way of looking at kids music, the land of Oz was about the best fit.
Titles on this album include:
There's a World in My Brain
Brave Dave
Say It
The Far Off Country
One More Star
Bugs
I Love My Dad
Creation Song
Pharaoh
Ten Commandments
The entire project is romping, stomping, rock and roll fun.
Click here
for song details and an audio sample.
Delivery of your mp3's will be via a secure download link sent by e-mail shortly after purchase. Links expire 7 days after purchase.
---
Related Products