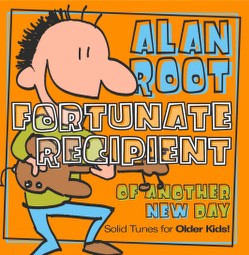 Alan Root's Fortunate Recipient CD Download
Music for Everyone!
A "James Taylor meets Switchfoot" kind of Biblical rock and roll especially for older kids and pre-teens.
Song titles include:
Fortunate Recipient (Isaiah 60:1)
Radio(Jeremiah 29:13)
All People (Psalm 100)
Trust and Obey (Deuteronomy 9:23)
An Instrument (John 14:27)
I Need Jesus (Philippians 3:10)
Too Small (James 4:6)
Chicken Soup (John 1:3)
The Heavens (Psalm 19:1)
All That (2 Corinthians 9:8)
Pharoh (Galatians 5:1)
Your Presence (Psalm 84:10)
Delivery of your mp3's will be via a secure download link sent by e-mail shortly after purchase. Links expire 7 days after purchase.
---
Related Products