Categories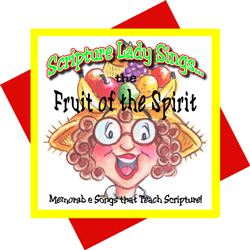 More Details ›
Scripture Lady Fruit of the Spirit CD
SIXTEEN Great Songs for Your Ministry
Scripture Lady's
CD is packed with sixteen catchy scripture songs all about the Fruit of the Spirit. You'll enjoy singing to John 3:16 Hawaiian style or to Romans 8:28 like a good ol' cowboy!
Lyrics included
. Click
here
to listen to samples.
This CD is also available via
download
EXCLUSIVELY on Kidology!!
---
Related Products