Categories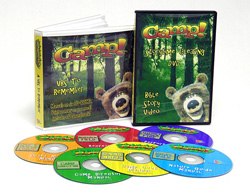 More Details ›
Puppets Inc. Camp! VBS Kit
CAMP!
is a VBS curriculum kit set in a wilderness camp that is host to a variety of entertaining characters!
CAMP!
comes with everything you need on 6 CD's. Print off as many leader manuals, scripts, recipes and games as you need. A soundtrack CD is also included to make it easy for your "sound man" to cue up the sing-along's and background music.
This VBS kit is highly customizable. You can make it as simple or elaborate as you'd like. If you don't like the game, or craft, or lesson, choose another! It has choices galore and helpful notes for Biblical application to all your choices.
PLUS, when you purchase
CAMP!
you'll also receive a
FREE BONUS DVD
telling all the Storytime Clearing stories or train one of your volunteers to do the same act, live, for your campers.
Your kids will squeal with delight as
Kody
, the Camp Director, the Poison Ivy Itch and Scratch Dancers, the Muskrat Cabin Players, and a host of Camp Counselors and Camp Staff make every effort to teach them about the nature of God.
Daily Themes:
Day One: God is Real! (Psalm 95:3)
Day Two: God is Strong! (Acts 17:24)
Day Three: God Made You! (Psalm 119:73)
Day Four: You Are Special! (Luke 12:7)
Day Five: God Loves You! (Romans 8:39)
Click
here
to learn more about
Camp!
To view
Camp! 2 VBS
click
here
.
---
Related Products