Categories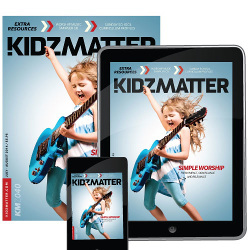 Kidzmatter Magazine - Twenty Subscriptions
20 Subscriptions to share!
Kidzmatter Magazine is a publication for those who minister to kids in the church. It contains specialized articles and features on everything from leadership to using trends in our world to help kids ministers make a deep impact on the lives of kids and their leaders.
Subscribe to Kidzmatter Magazine to get the best ideas, interviews, and features delivered right to your door four times a year. And now, your subscription also includes Kidzmatter Magazine Digital for no extra charge! Read a completely immersive, digital copy of Kidzmatter Magazine on your iPad, iPhone, Android tablet, desktop computer, or any other Internet-connected device. It's the first
all-digital reading
experience of its kind for kids ministry.
Click Here
for a bulk subscription of 10. Delivery of all subscriptions must be to one address.
Your first issue will arrive in 6-8 weeks.NOTE to International Customers:
(those living outside the Continental US) use the drop down box above for your subscription choice.
---
Related Products