Categories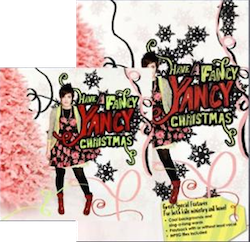 More Details ›
Yancy Have a Fancy Yancy Christmas DVD and CD Combo
Fancy Yancy Christmas
CD and DVD Combo
Christmas music done Yancy style. It's rocking fun and definitely celebrates the greatest gift ever. This 10 song CD includes Christmas classics like "The First Noel" and "Joy To The World" a rocking version of "Have Yourself A Merry Little Christmas" and two originals written by Yancy "Merry Christmas, Happy Christmas" and "Christmastime'. We guarantee this music will make your season jolly!
The DVD includes live lyric videos for all 10 songs with original versions, soundtracks and mpeg files.Includes mpeg files for you to import into your presentation software.
Click here
for sample videos from the
Fancy Yancy Christmas
DVD.
---
Related Products