Categories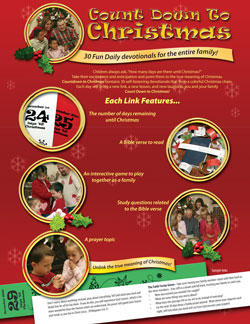 More Details ›
Count Down to Christmas
Unlink the true meaning of Christmas
Children always ask, "How many days are there until Christmas?"
Take their excitement and anticipation and point them to the true meaning of Christmas.
Count Down to Christmas
contains 30 self-fastening devotionals that form a colorful Christmas chain. Each day will bring a new link, a new lesson, and new laughs as you and your family...
Count Down to Christmas
The chain can be displayed in your home and serves as a visual reminder to take time each day to read God's word and pray together as a family. Because each day's devotional comes with a fun game to play that relates to the Bible verse, your kids will be the ones who remind you to keep your appointment with God.
Each link features the number of days remaining until Christmas, a Bible verse to read, an interactive game to play as a family, study questions related to the Bible verse, and a prayer topic.
Click here
for more details, and a sample ring.
---
Related Products