Categories
Store
› KICKRiCKulum
Fruit of the Spirit 1 - Growth Begins
Kids' Church Curriculum (Elementary Download)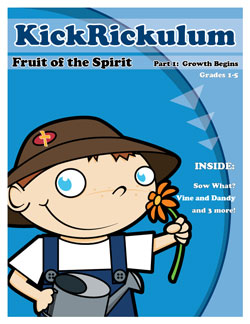 More Details ›
KICKRiCKulum Fruit of the Spirit 1 - Growth Begins Kids' Church Curriculum (Elementary Download)
This is a foundational series starting with the Gospel seed up through a healthy tree bearing good fruit!
KICKRiCKulum
is a creative, fun kid's curriculum that is equally at home in a midweek, Sunday or Sunday evening service. Best of all, this series is affordable, easy to use, quickly adaptable, and ready to lead today's child into the presence of God.
Fruit of the Spirit 1 - Growth Begins
can be used as a stand-alone 5-week unit or to "establish roots" for the eleven-week study of the 9 Spiritual Fruits in Parts 2-3
The PACKED OUT
Fruit of the Spirit - Growth Begins
contains 5 lessons for elementary (1-5th grade) children. Scripture comes alive with hands on presentations and easy to follow visible object lessons. Other features include PowerPoints, lesson reinforcing breakout activities and interplay between teacher, student, and special characters. Children stay captivated and involved without the need for extensive staging or props. Written for new or experienced teachers, this curriculum has a creative and varied approach which targets different learning styles.
Click here
for more details and lesson samples.
Delivery of your KICKRICKulum curriculum will be via a secure download link sent by e-mail shortly after purchase. Links expire 7 days after purchase.
---
Related Products