Categories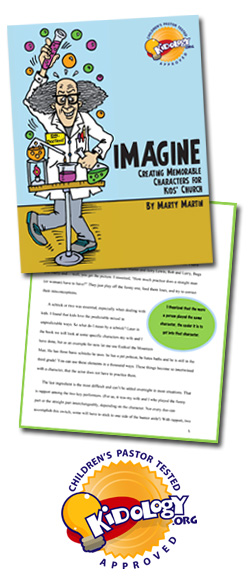 Imagine: Creating Memorable Characters for Kids' Church Book
Tutorial on creating characters for ministry
If you have ever wanted to add skits, regular characters, or just something to spice up your kids church or Sunday School class, Imagine can help you do that. This 69-page PDF by children's pastor Marty Martin lays out a process for doing this without the hassle and time-draining elements of scripts and practices. Imagine is written out of the wisdom of actual experience from a veteran children's pastor.

Chapters

1. Introduction
2. Become One With Your Alter Ego
3. Not To Be Confuseed With A Stiff
4. Establishing Rapport
5. Keep The Main Theme The Main Thing
6. I Have To Practice?
7. Speak Softly and Carry A Big Schtick
8. Surprise Attack
9. Have Some Fun!
10. What A Joke
11. Mirror, Mirror On The Wall
12. Master of Disguise
13. Roping In The Adults
14. Audience Participation
15. The Big Flub
16. Conclusion

This download resource is available instantly after purchase by clicking on My Downloads at the top of any page.
---
Related Products