Categories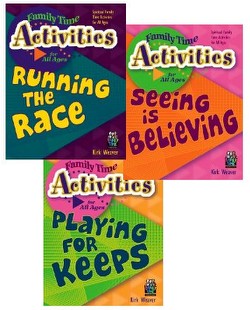 Family Time Activities Book Combo Pack
by Kirk Weaver, from the National Center for Biblical Parenting
Family Time Activities Books
by Kirk Weaver teach spiritual truths to your kids in fun ways. Each book in this series outlines step-by-step instructions and tips for making your family's devotional times fun, engaging, and exciting. The lessons are easy to follow with activities, science experiments, and object lessons that use simple household objects to leave a profound impact on your kids. All lessons are based in scripture and have an easy-to-memorize theme.
This 3-pack of activity books are perfect for children of any age. Buy all three together and save! Check out the individual products for detailed descriptions of each book included in this set:

For an index of all the activities in all the books,
click here.
(PDF, 121 KB)
---
Related Products