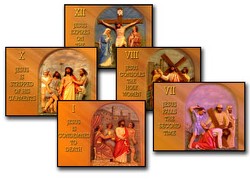 More Details ›
Worship Photos Stations of the Cross Mini-Collection (Download Version)
Background images for projection
Stations of the Cross Mini-Collection
from Worship Photos
The stations of the cross are vivid images depicting the passion and death of Jesus, and most of the imagery comes directly from scripture. The history of how Christians commemorated Christ's walk on the Via Dolorosa (the "Sorrowful Way") is intriguing and fascinating and can be a distinctive way to visualize the story of Easter. Many churches include 14 different "stations" and this collection of 28 graphics includes 14 with and 14 without the actual notations.
All images are 1024 x 768 pixel resolution JPG files which can be used in any presentation software such as Microsoft PowerPoint. This
Download Version
of
Stations of the Cross Mini-Collection
provides you with 28 images via Internet download. You will receive a secure download link via e-mail shortly after purchase to obtain your collection.
View samples of this graphics collection
---
Related Products