Categories
Store
›
View by Vendor
› Animated Kids Bible
Genesis: Joseph the Dream Reader
Interactive Bible Lessons 16-18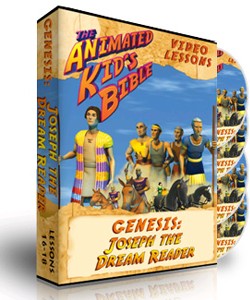 More Details ›
Animated Kids Bible Genesis: Joseph the Dream Reader Interactive Bible Lessons 16-18
A Sunday school teacher's dream come true!
Animated Kids Bible
Genesis: Joseph the Dream Reader
Interactive Bible Lessons 16-18
The Animated Kid's Bible is a great way to get your kids interested in the stories of the Bible. This series has excellent visual imagery, great characters and good plots to keep the kids interested.
Discs one through three tell the stories of Joseph, from his brothers' betrayal, to Joseph's forgiveness. With great visual imagery, the Fact File recaps the entire story from Adam and Eve on. This review helps the kids see how the whole story has progressed, and shows how all the characters are related. The interactive presentation will get the kids involved in learning.
The other chapters have useful learning tools to help your kids understand the stories. There are review chapters, quizzes for the kids to test themselves, and songs with themes from the stories. It's all colorful and energetic, so your kids will love it.
Disc 4 has printable lesson plans that you can use to teach your kids at home. These lessons contain ideas and activities so that you can make learning Bible stories active and motivational. Your kids will love Bible study!
Features:
Contains Four Disks
Plays on all DVD players - Worldwide
Contains three major bible lessons
120 minutes of video (Samples)
Home Study handouts
High quality prints
Click here
for more details.
Save money - buy the entire Genesis set!
Individual Episodes also available via download:
Episode Sixteen
Episode Seventeen
Episode Eighteen
---
Related Products