Categories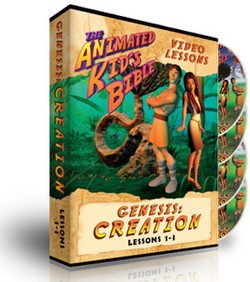 More Details ›
Animated Kids Bible Genesis: Creation Interactive Lessons 1-3
A Sunday school teacher's dream come true!
Animated Kids Bible
Genesis: Creation
Interactive Bible Lessons 1-3
The Animated Kids Bible finally gives you a way to teach your kids about the Bible while also keeping them entertained and interested. Not only do they get to see the movie, the "Video Lessons" also present them with Bible facts and quizzes to make sure it sank in.
The videos are visually stimulating, with the latest in CGI digital effects. They present the kids with cartoon Bible stories full of vivid characters and great animation, that will keep them glued to the screen.
The Animated Kids Bible is meant to be enjoyed over and over again. The tests are there so you can make sure your kids get it, and there are songs and stories your kids will want to watch again and again.
Features:
Contains Four Disks
Plays on all DVD players - Worldwide
Contains three major bible lessons

Creation
Adam and Eve
Cain and Abel

120 minutes of video (Samples)
Study handouts
High quality prints
Click here
for more details.
Save money - buy the entire Genesis set!
Individual Episodes also available via download:
Episode One
Episode Two
Episode Three
---
Related Products