Kidmin Talk #040 - September 19, 2012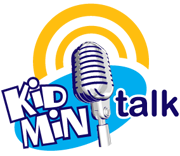 Duration: 00:29:58
Download MP3
Kidology 101: Kidmin Missionaries
Welcome to Kidmin Talk, Kidology's weekly webcast show. Listen here on Kidology or subscribe via iTunes to listen on-the-go!

SPONSOR: This episode is sponsored by The Kidology Handbook
FEATURED ON THE SHOW:
SHOW NOTES:
Kid·ol·o·gy: n. 1. the study of kids and their world.
To be an effective minister to today's children, one must learn to do it from within the context of their culture. A working knowledge of a kid's world is an inroad to their heart. When children see that you are genuinely interested in their world, they in turn will become interested in what you are interested in – namely God's Word and the Good News of Jesus. Learn how to relate to kids and keep up with their ever changing culture.
AIM OF THIS WORKSHOP is to challenge and equip adults to engage in relational ministry through a working knowledge of the culture of kids.
What is KIDOLOGY anyway?
A. Definition of Kidology: the study of kids (how they think, relate, communicate and learn) and their world.
B. Think of Childrens Workers as cross cultural ministers.
1. Learn the language: Humor

What makes them laugh, what they like to talk about.

2. Learn their work: Play

Get to the heart of Play, play with them, learn about the things they play and the things they play with.

3. Learn their stuff: Toys

Keep up on the latest thing kids are into.
Information on the Kidology Handbook:
The Kidology Handbook is a 143-page, full-color printable PDF document designed to used as an interactive self-study guide to becoming the teacher you've always wanted to be! Each concise chapter is loaded with practical and insightful training to help make you a teacher that kids will love. Become a relational communicator of God's truth and see kids lives transformed. Download a sample.
KIDMIN WINNER! To win a FREE COPY of the Kidology Handbook this week, participate in the forum discussion linked below!
WANT TO BE A WINNER? Contribute to the show by E-mail or Twitter.
Earn extra chances to win by promoting @KidminTalk via Twitter! If I see you promote the show, I just might send you a prize! It's been done before already!
MUSIC ON THE SHOW:
Bumper music by Rob Biagi Music available on Kidology! Booking info at RobBiagi.com
CONNECTING w/ KIDMIN TALK: