Kidmin Talk #162 - October 6th, 2021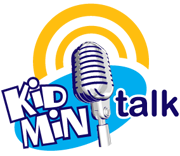 Duration: 00:41:29
Download MP3
Tweaking Ministry
Welcome to the 162nd episode of Kidmin Talk, the webcast show hosted by Karl Bastian, the Kidologist. Listen here on Kidology or subscribe via iTunes to listen on the go with your iPhone, iPod, iPad, or other mobile devices.

FEATURED RESOURCE: Kids Ministry Security by KidCheck!
MENTIONED ON THE SHOW TODAY:
Did I mention something on the show that I haven't listed here? Let us know!
Discuss this podcast on Facebook!
CONNECTING w/ KIDMIN TALK:

Discuss this episode of Kidmin Talk in the Kidology Facebook Group