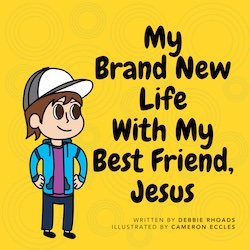 More Details ›
My Brand New Life with My Best Friend, Jesus - Pack of 15
Salvation Follow Up Booklet by Debbie Rhoads
My Brand New Life is an excellent follow-up tool for kids who make a decision to accept Jesus as their Savior, and a great guide for those who are trying to understand salvation!
Kids have questions about what it means to have a relationship with Jesus. This book takes real questions that were asked by real kids and answers them based on what the Bible says. Questions include: 
What does it mean to be saved?
Can I still go to heaven even though I sin?
Is God's gift for me too?
Now that I have a relationship with Jesus:
What do I do now?
Will I still sin?
Why should I be baptized?
If God forgives me, can I sin as much as I want?
Will God ever kick me out of His family?
This book is perfect for a child that is trying to understand salvation... and perfect for once they begin their relationship with Jesus to guide them in next steps. 
You will receive 15 copies of this 6" x 6" Full-Color, Softcover, 40 page booklet. Change the quantity in your cart to order additional packs of 15.
---
Related Products