Kidmin Talk #085 - August 18th, 2016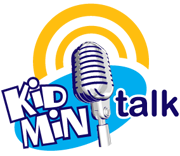 Duration: 00:33:13
Download MP3
Kidmin in the House
Welcome to the 85th episode of Kidmin Talk, the webcast show hosted by Karl Bastian, the Kidologist. Listen here on Kidology or subscribe via iTunes to listen on-the-go with your iPhone, iPod, iPad, or other mobile device.
SPONSOR: This episode is sponsored by CODE 2-5-2: Growing Up Like Jesus
SUMMARY: If you are a parent, your primary children's ministry is not at church, but in your home. It doesn't matter what success you have at church if your ministry to your own kids is lacking. Pastor Karl (and Dad) Bastian shares how to reach your child's H.E.A.R.T. so that you can do your best to guide them toward a life-long relationship with Jesus.
MENTIONED ON THE SHOW TODAY:
SHOW NOTES:
Fast forward to the future - your child is leaving home. You are done raising them and they will now be on their own.
WHAT IS MOST IMPORTANT TO YOU THEN?
A. How smart they are.

B. How skilled they are.
C. How healthy they are.
D. How socially adjusted they are.
E. How strong their faith is.
If "E" is the most important to you, what is your PLAN or STRATEGY to make that desire a reality? It won't happen by mistake or chance.
The most effective way to influence your kids is to have a close relationship with them. You can care for, provide for, protect and correct, and educate but to influenece their heart and character requires a close relationship.
How do you connect with your kids so that you can impact their HEART?
H = Hug them. Be affectionate. (Physical Love)
E = Encourage them. Build them up. (Verbal Love)
A = Accept them. Just as God made them. (Emotional Love)
R = Relate to them. Love is best spelled T.I.M.E. (Social Love)
T = Train them. Teach them what they need to know. (Mental Love)
WANT TO BE A WINNER? Participate in the Forum Discussion (this show linked below) or contribute to the show by E-mail or Twitter.
Earn extra chances to win by promoting @KidminTalk via Twitter! If I see you promote the show, I just might send you a prize! It's been done before already!
MUSIC ON THE SHOW: NEEDED
Bumper music by Rob Biagi Music available on Kidology!
CONNECTING w/ KIDMIN TALK: