Movie Review: Bedtime Stories
Membership Level› Guest
Author/Source: Nancy Keith
Topic: Movie Review, Reviews
A review of Bedtime Stories, including description of the movie, areas of concern, teachable themes, discussion questions, and scriptures to use.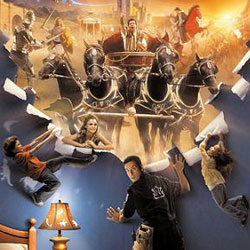 Overview

I grew up looking forward to bedtime. I know, most kids dread it, but my father was a great storyteller. He didn't read them from books. Every night he spun a new tale, and we couldn't wait to see what would happen next.

In Bedtime Stories, Skeeter Bronson has a father who is also a wonderful storyteller, a great dad, but unfortunately not the best businessman. He must sell the family hotel to Barry Nottingham, but he does so with the promise that if Skeeter "grows up smart," he will one day manage the hotel.

Twenty-years later, the once mom-and-pop hotel is now the lavish Sunny Vista Nottingham. Barry Nottingham is a tycoon, and his daughter, Violet, is very "Paris Hilton." Skeeter is a handyman at the hotel still awaiting the top job. His dreams are dashed when the position is given to "yes-man" Kendall Duncan.

Skeeter's sister, Wendy, has problems of her own. Her husband is divorcing her. She is the principal of a school that is closing. She has to go out of state to apply for a job. Her two children need to be cared for….by her friend Jillian by day and Skeeter by night.

Wendy is a staunch environmentalist and vegan. Her house has no television. Skeeter is like a fish out of water in this environment. With no "fun" books to read the children, Skeeter resorts to what he knows….storytelling. Using his own life for plot points, he puts his tales in different settings. One time he is a cowboy. One time he is a knight. One time he is in outer space.

The children get involved embellishing the tales. Somehow, some way, the parts of the stories that they throw in have a way of coming true. Skeeter starts spinning the tales in such a way that their additions will help him be the winner in the end.

Concerns

This is a Disney movie, but it is an Adam Sandler movie. Marry the two and you get a funny, yet slightly crude movie that teaches more bad lessons than good…but in a good-natured way.

Here are just some of the lessons your kids will learn. Your kids will learn that disobeying your mother is okay as long as she is not there. Lying is a good way to get out of trouble; in fact, there is a good bit of very obvious lying in this movie. God's name is taken "in vain" several times. It is okay to call people unflattering names as long as they fit. It is reasonable, and funny, for a 6-year-old boy to call older girls hot and desire to kiss them. Stealing is okay as long as your motives are good.

You also have to ask the question, what is Violet Nottingham doing in a children's movie? Her "Paris Hilton" is pretty spot-on. Her reputation is referred to as "loose." She is called "hot." It is said, "She likes to have a good time." The sexual intent is so obvious.

As for violence, it is more the slapstick variety. Bad guys get knocked down with a branch. People get kicked accidentally and on purpose….etc., etc.

I write this review with this disclaimer. This is a well-advertised film and I am sure that many of our children will see it. It is funny and popular, however, I believe that there are enough negative elements, that I would really be concerned about using it as part of a lesson, mainly because that looks like "the church" is endorsing a film that is really not good for children. I revert to the rule that what I may excuse, others may abuse in excess. A child may see this movie at church and because of that watch it at home, and seeing that their church leaders use it as an example, may think the things in the movie are okay to do. I have seen this happen.

Teachable Themes
Family is Important

The children's father has left them, but they do have family to support them.


Good Things Can Come From Bad Things

Even though things can go horribly wrong, they can work out for our good.


Life Doesn't Always Turn Out the Way We Plan

Skeeter always thinks he knows how life is going to play out, but it comes out differently in the end….not bad, just differently.


There are Not Always Happy Endings

Life is not always perfect like a fairy tale. We watch movies and TV and the circumstances work out in 30 minutes to two hours. Life is not like that.


Biblical References
Obey Your Parents

Colossians 3:20
"Children, always obey your parents, for this pleases the Lord." (NLT)


God Will Take Care of Us.

Psalm 27:10
"Even if my father and mother abandon me, the LORD will hold me close." (NLT)


Trust in the Lord for Everything in Your Life

Proverbs 3:5-6
"Trust in the LORD with all your heart and lean not on your own understanding; in all your ways acknowledge him, and he will make your paths straight." (NIV)


Discussion Questions
What was the best bedtime story you ever heard?
Who are your heroes?
Are there always happy endings?
Do you know everything that is going to happen in your life?
What are some disappointments that you have faced?

Conclusion
In an interview with Artist Direct, Adam Sandler said this, " I wanted to do a family movie for a long time. Every Sunday night when I was a kid, we'd watch the Disney movie with Kurt Russell. I was a big fan of Kurt Russell growing up. I wanted to be the modern day Kurt Russell. Now, I live in his old house. I have his old muscles. [Laughs] He has a very Semitic look. [Laughs] I loved Matt Lopez' script. I thought it was sweet. A lot of the time, kids end up seeing my movies anyway. Some of their mothers yell at me. They tell me I've corrupted their children and that I've influenced them to pee on walls. I wanted to make sure I did one movie in my career that mothers hugged me for. This could be it."

I say, it could, but it isn't. As CP's we are on a different plane. We are looking for ways to uplift and teach. Spiritually, we are on a very different page. While I enjoyed this movie and laughed along with it, part of me kept saying, "Why did you have to…..?"

This is not a movie for the younger set. Adam Sandler's young daughter enjoyed it so much that she predicted that their dog would eat it! For the older set, have fun, but get ready to undo all the don'ts that you see after the movie.