Movie Review: Shrek the Third
Membership Level› Guest
Author/Source: Brett Richmond
Topic: Movie Review
A review of Shrek the Third including a description of the movie, areas of concern, teachable themes, discussion questions, and scriptures to use.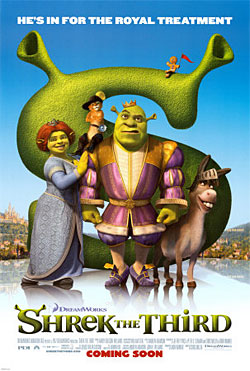 Overview

Shrek, Donkey, and Puss in Boots go on another quest together to find the next king of Far Far Away, while Fiona and the other fairy tale princesses stay behind and defend the castle from Prince Charming and his army of fairy tale villains.


WARNING: SPOILERS AHEAD!
Click to skip spoilers

Shrek the Third opens with Shrek and Fiona in the Far Far Away castle where they have been since Shrek 2. We quickly discover that Fiona's father, the frog, is dying. After the king's death, Shrek, Donkey, and Puss, sail off to find the next king of Far Far Away, Arthur (a.k.a. Artie). As the ship begins to sail Fiona tells Shrek that she's pregnant and that he's going to be a father. The boat arrives at an island where they discover Artie, the runt-like, often-picked-on, character in the local high school. They manage to convince Artie that he's the new king.

Meanwhile back in Far Far Away, Prince Charming has gathered an army of fairytale villains to lay siege to the kingdom so they can have their own "happily ever after." Fiona, the queen, and the other fairytale princesses (Sleeping Beauty, Snow White, Rapunzel, and Cinderella) try to escape from the horde of villains only to be betrayed and captured by Charming, who has secretly been in league with Rapunzel.

Shrek, Donkey, Puss, and Artie find Mr. Merlin to help them get back to Far Far Away. The character of Mr. Merlin is a retired, over-stressed, high school magic teacher who uses mysticism to get to some of the "father issues" in both Artie and Shrek. Mr. Merlin uses magic to transport the four characters to Far Far Away, and in the process Donkey and Puss switch bodies.

The princess cast off their dependence on being rescued from men and instead free themselves from the prison in which they are being held. The movie comes to a climax when Shrek has been captured by Charming and is planning to kill him as a part of a musical play he has planned. Ultimately, Charming is foiled and Artie reaches the goodness that is in the villains to show them that there's another way for them to be happy other than being evil.

END OF SPOILERS


Concerns

The third installment of the Shrek movies maintains the same humor as the previous two. More bathroom humor and mild language, the use of "stupid" and "butt," along with certain attitudes of selfishness and bitterness in traditionally well-loved characters. The princesses are portrayed as self absorbed, bickering gossips rather than the sweet characters you find in their original stories. If the humor, language, and character attitudes offended you in the first two films then Shrek the Third will do the same.

There is an additional element of mysticism with Mr. Merlin. Mr. Merlin is more of a goofy, sixties hippy-like character and doesn't really play a strong role in the movie. Even though there is use of magic, it's nowhere near the level of Shrek 2.


Teachable Themes

While there are several themes that could be pulled out of this movie, here are the three most predominate and well-established themes:
Self-Acceptance (for kids)
When Shrek finds Artie he's the most picked on kid in school... even the "nerdy" kids pick on him. At the end of the film, Artie's soliloquy helps the villains realize that they don't have to be what others have made them out to be. Everyone can determine who they are (villain or hero) based on what they believe about themselves. Artie asks the Evil Step Mother is she wants to be evil, but she says that she once wanted to open a spa. This theme permeates the movie even with Shrek's fear of becoming a father.


Fatherhood (for parents)
When Shrek finds out he's a father, he begins to have nightmares and doubts of his ability to be a good dad. While Shrek and Artie are with Mr. Merlin, they both realize that the failures of their fathers has dramatically affected their self-esteem and created feelings of inadequacy. Shrek, whose father tried to eat him, and Artie, whose father abandoned him, both want to be successful, happy, and well-adjusted men. However, they find it difficult without the support and involvement of their fathers. Donkey, on the other hand, is portrayed as a loving father, who at one time just wants to get home to see his "babies."


Self Assurance (for girls)
At one point in the movie the heroines realize that they can't wait for the guys to rescue them and will need to take matters into their own hands. There's a strong vein of women's independence and self-assurance that is definitely geared towards the girls in the audience. The image of weak, vulnerable, dainty princesses is shattered when the queen head butts two stone walls in order to free the princesses from prison. From that point on the princesses are seen as strong, feminine characters that are self-assured.

Unlike most of these themes, the princesses maintain their feminine qualities and add a nice balance of independence and self-assurance to their already prim and proper image. You won't look at Snow White the same after seeing Shrek the Third.


Biblical References
Acceptance:

Matthew 22:37-39 - "Jesus replied, "'You must love the LORD your God with all your heart, all your soul, and all your mind.' This is the first and greatest commandment. A second is equally important: 'Love your neighbor as yourself'." (NLT)
Matthew 11:19 - "The Son of Man, on the other hand, feasts and drinks, and you say, 'He's a glutton and a drunkard, and a friend of tax collectors and other sinners!' But wisdom is shown to be right by its results." (NLT)



Fatherhood:

Ephesians 6:3 - "Fathers, do not provoke your children to anger by the way you treat them. Rather, bring them up with the discipline and instruction that comes from the Lord." (NLT)
Deuteronomy 6:4 - "Hear, O Israel: The LORD our God, the LORD is one. Love the LORD your God with all your heart and with all your soul and with all your strength. These commandments that I give you today are to be upon your hearts. Impress them on your children. Talk about them when you sit at home and when you walk along the road, when you lie down and when you get up. Tie them as symbols on your hands and bind them on your foreheads. Write them on the doorframes of your houses and on your gates." (NIV)



Self Assurance:

1 Peter 2:5 - "You also, like living stones, are being built into a spiritual house to be a holy priesthood, offering spiritual sacrifices acceptable to God through Jesus Christ." (NIV)
Psalm 139:13-15 - "For you created my inmost being; you knit me together in my mother's womb. I praise you because I am fearfully and wonderfully made; your works are wonderful, I know that full well. My frame was not hidden from you when I was made in the secret place. When I was woven together in the depths of the earth." (NIV)
Discussion Questions
Acceptance: Whose opinion about you is most important: friends, your own, or God's? How does each of these opinions affect the way you live your life?
Fatherhood (for kids): What is it about your father or mother that makes you feel loved?
Fatherhood (for parents): How does your upbringing affect the way you parent?
Self Assurance: What are some of the things that you can do without someone helping you? How did you learn to do those things? What have you done recently all by yourself that you used to need help doing?