Around the World in 80 Days Movie Review
Membership Level› Guest
Author/Source: Karl Bastian
Topic: Movie Review
Overall, a fun film to watch. Packed with fanciful inventions, multiple cultures, and traditional good guys and bad guys. If you are seeking a modern update on the Jules Verne book, you'll be disappointed. This isn't a "don't see" film, however I'd hesitate to recommend it to families in my church.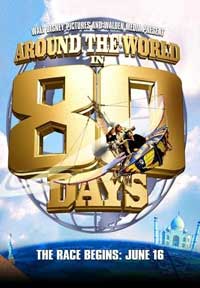 Getting to see Around the World in 80 Days a week early was a treat. Jackie Chan in a Disney film seemed to be an "about time." The popular Chinese action man stars as Passepartout, valet to Englishman Phileas Fogg (Steve Coogan), in a new $100 million-plus version of Jules Verne's book. The film was filled with fanciful inventions, multiple cultures and traditional (and predictable) good guys and bad guys, but if you are looking for a modern update of the classic book, leave the book at home – it seems the book was merely the inspiration for this fun film rather than the script. If you've never read the book, it won't matter. (And if you have, it won't matter either.)

I liked the opening and transition effects throughout the movie – they were a creative blend of computer animation and live footage. Overall the film had some very fun and entertaining moments, but by the end I was left wondering who the intended audience was. Disney missed another chance to re-claim its title as the "family friendly" movie company. I can't count how many times I cringed and moaned, "Why'd they have to do that?"

From Jackie Chan delaying a daring escape to prolong a view into a brothel, to jokes about cross-dressing and excessive drinking, not to mention various swear words, the film lacked the class it could have so easily had. There is even a subtle gay joke with the girl hinting that the hero may be more than just a friend, and Jackie Chan says that may be true of her, but not him. One of the "funny" moments is when the main character knocks over a whole table of food after being caught looking at a woman's leg while she fixes her dress. The most tacky scene was with a man showing (with his back to the audience) his chest with torn off nipples which he explains was from a shark. And later, to enlist his help, the hero of the film promises him a doctor who will give him new nipples.

There are many funny moments and some attempts at thoughtful scenes, though those are a bit of a stretch. The main character is a little hard to get to know. He is sometimes proud and arrogant... then he's gentle and sweet... then he's cowardly... then brave. I'm sure Steve Coogan followed the script, but with his acting being only average, the character was hard to get to know. It seems the director perhaps wasn't sure what his personality was supposed to be either. The appearance of Arnold Swartegener as an arrogant wife-collecting leader of some no-name country was funny in parts, especially his love of his statue of himself, but it was hard to see the Terminator with woman's hair in what is said to be perhaps his last film.

The Wilson twins appeared as the Wright brothers, with Owen Wilson being his typical self. (By the way, I am convinced that Owen Wilson can't act – don't get me wrong, I like the guy, but he is the exact same character in every movie. I am convinced he just shows up and plays himself.)

While there is a lot of violence and fighting, no one dies, all the bad guys get up and walk away in defeat, and even the main villain who appears to have been killed sends a telegram later, so you know she survived. Overall, while disappointing or frustrating in many places, it is a fun film to watch overall. I have listed the disappointing parts, but not the many fun and entertaining moments, so as not to spoil those. Families with young children will enjoy it, and parents can hope many of the adult themes go over the kids' heads, though we may be naive to think so! So it isn't a "don't see" film, but it is one I'd hesitate to recommend to families in my church.

Application for Ministry
None. I wouldn't show this movie in church or recommend it to families. With the fun that Jackie Chan brings this could have become a classic funny family film if Disney had thought anything about what parents are trying to accomplish in raising children.

Positive Lessons for Life
For kids who have seen it (or families that chose to go) there are some good discussion opportunities. There are themes of honesty and loyalty. The main message seems to be the importance of progress and believing in yourself, while being faithful to your friends.

Bottom Line
Read the book.