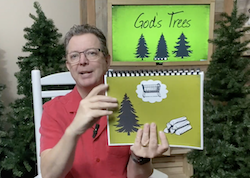 More Details ›
The Story of God's Trees Storybook
The classic fable of the three trees has been shared for decades. It is a beautiful story that illustrates in a powerful way how our loving God hears our dreams and fulfills them in ways we can never imagine. It has been told in many ways by many authors. Pastor Karl's mother wrote a Christmas play in the 1970's that had a profound impact on young Karl as he played a lumberjack in that production. Since then, various authors have retold the story in a variety of creative methods.
This is Karl's version - based on his memory of the story as told to him by his mother and with his own twist to share his hope that kids would understand that God loves them, hears their dreams, and has a plan for their lives too!
Your purchase of The story of God's Trees provides THREE METHODS to present the story.
Get more info.
Visit
Kidology.org/godstrees
for more information and a video explanation of the Storybook!
---
Related Products