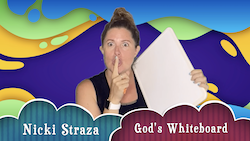 More Details ›
Object Lessons with Nicki Straza: Video #09 - God's Whiteboard
God Has the Perfect Recipe for LOVE
Short, sweet, and ready to use in your ministry!
Pastor Nicki Straza presents short Object Lesson Videos you can use in your services, online, or just to train yourself in a simple object lesson you can use!
VIDEO 9: God's Whiteboard
We all make mistakes, but God doesn't want our mistakes to hold us back or make us feel bad. Instead, we confess or tell God the troubles we have and the mistakes we made and he will forgive us and help us learn a better way. God cannot forgive what we will not confess, so it is important to talk to God so we can learn and grow.
Recommended Scripture: 1 John 1:9 But God is faithful and fair. If we confess our sins, he will forgive our sins. He will forgive every wrong thing we have done. He will make us pure.
All Access Members can download this video for free!
Learn more about Nicki's Object Lesson videos!
Licensing Info
This download resource is available instantly after purchase by clicking on My Downloads at the top of any page.
---
Related Products