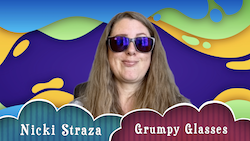 More Details ›
Object Lessons with Nicki Straza: Video #03 - Grumpy Glasses!
Attitude is everything.
Short, sweet, and ready to use in your ministry!
Pastor Nicki Straza presents short Object Lesson Videos you can
use in your services
, online, or just to
train yourself
in a simple object lesson you can use!
VIDEO 3: Grumpy Glasses!
What we think about produces fruit in our attitudes, and our attitudes influence how we see things and experience things. When we believe negative things or lies it would be like wearing sunglasses in the classroom and complaining that people didn't turn on the lights! What we think about matters. The Holy Spirit wants to teach us how to think well so we can live and speak love everywhere we go.
Recommended Scripture: Philippians 4:8 NIV Finally, brothers and sisters, whatever is true, whatever is noble, whatever is right, whatever is pure, whatever is lovely, whatever is admirable—if anything is excellent or praiseworthy—think about such things.
Scripture Option #2: Luke 6:45 NIRV A good man brings good things out of the good stored up in his heart, and an evil man brings evil things out of the evil stored up in his heart. For the mouth speaks what the heart is full of.
All Access Members can download this video for free!
Learn more about Nicki's Object Lesson videos!
Licensing Info
This download resource is available instantly after purchase by clicking on My Downloads at the top of any page./p>
---
Related Products