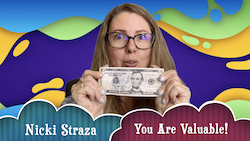 More Details ›
Object Lessons with Nicki Straza: Video #01 - You Are Valuable!
Teach children their value with this priceless object lesson!
Short, sweet, and ready to use in your ministry!
Pastor Nicki Straza presents short Object Lesson Videos you can
use in your services
, online, or just to
train yourself
in a simple object lesson you can use!
VIDEO 1: You Are Valuable!
If you were given a crisp new $5 bill, you would be happy. You would also be equally happy if you found a $5 bill that had been crumpled, stepped on, or otherwise mistreated. Why? The value never changes. If the value of something is determined by what is paid for it, then we as humans are the most valuable of all because Jesus paid his LIFE for ours. No matter what you have been through, you are loved, you are valuable, and you belong in the family of God.
Recommended Scripture:
1 John 3:1a NIV See what great love the Father has lavished on us, that we should be called children of God! And that is what we are!
Scripture Option #2:
John 3:16 NIV For God so loved the world that he gave his one and only Son, that whoever believes in him shall not perish but have eternal life.
All Access Members can download these videos for free!
Learn more about Nicki's Object Lesson videos!
Licensing Info
This download resource is available instantly after purchase by clicking on My Downloads at the top of any page.
---
Related Products