Categories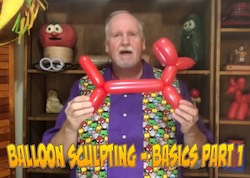 More Details ›
Balloon Sculpting with Pastor Brett - Part 01: Basics
Start with the basics of balloon sculpting
Pastor Brett Belleque is the Director of Children's Ministry Resources for InFaith. He is also known as "The Magical Mr. B" one of the most AMAZING Balloon Sculptors you will ever meet!
In this series, Brett will be presenting a new video each month during 2021 to help children's workers learn how to sculpt FUN with balloons!
Welcome to
Episode #1
of balloon basics. In this video, we will get acquainted with the tools and equipment used to make balloon sculptures. We will also make our first scultpure, the classic "balloon dog". Practicing these balloon basics will prepare you to tackle all the upcoming videos!>
All Access Members can watch this video for free!
Learn more about Brett and this video series!
Licensing Info
This download resource is available instantly after purchase by clicking on My Downloads at the top of any page.
---
Related Products