Categories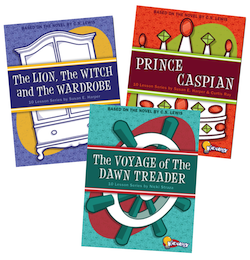 More Details ›
Narnia Series: #1/#2/#3: Wardrobe/Caspian/Dawn Treader Curriculum Combo
30 weeks of Narnia Curriculum
Get all three installments in Kidology's companion curriculum series for
The Chronicles of Narnia
at a special combo price. This collection includes:
The Lion, The Witch, & The Wardrobe
Introduce the kids in your ministry to Aslan, the White Witch, and of course, Peter, Susan, Edmund, and Lucy Pevensie as you explore the principle of good vs. evil.
Prince Caspian
Get to know Prince Caspian and his army of Talking Beasts as they take on the Telmarines in this exciting journey through faith.
The Voyage of the Dawn Treader
helps your kids experience King Caspian's voyage through magic waters to the End of the World!
Download Samples.
Delivery of your curriculum will be via a secure download link sent by e-mail shortly after purchase. Links expire 7 days after purchase.
---
Related Products