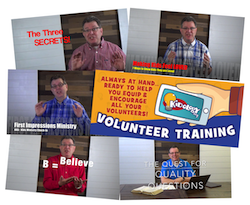 More Details ›
Volunteer Training Videos #1-12
Ongoing training is critical to a growing children's ministry
All Access Members can
download the Volunteer Training Video Series for FREE!
Ongoing training is critical to a growing children's ministry.
These videos were created by Pastor Karl Bastian, a full-time children's pastor, for his own volunteers. But they were recorded in a generic format so they are usable by any children's ministry. Many come with bonus content to enhance the training.
Save $60 when you purchase all 12 in this bundle! That's like getting 3 free!
View the list of included training videos.
Delivery of your product will be via a secure download link sent by e-mail shortly after purchase. Links expire 7 days after purchase.NOTE: Downloading the video enables you to show from your own computer (no Internet required for screening) or to post in a CLOSED Group. Videos cannot be posted online where they are accessible to the general public. However, if you have a closed Facebook Group limited to volunteers from your church or another similar closed environment that protects the video from broader distribution, in those cases, you have permission to post online. Otherwise, online posting is prohibitive. Thank you for respecting the copyright of these videos.
---
Related Products