Categories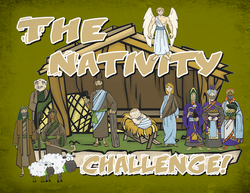 More Details ›
The Nativity Challenge
A NEW Christmas Game from Pastor Karl
Tired of hearing, "We know this story!" Then it's time for The Nativity Challenge!
Time for another interactive game that helps teach and review the Christmas Story while getting the kids involved! It's a game show! It's review! It's FUN!
Your kids will compete to complete a Nativity Scene by doing various fun interactive challenges! The impact will be HUGE and your kids will have a BLAST!
Watch the Podcast
explaining the game.
All Access Members can
download the zip file
for free!
Not a member yet?
Join today!
Delivery of your Christmas game will be via a secure download link sent by e-mail shortly after purchase. Links expire 7 days after purchase.
---
Related Products