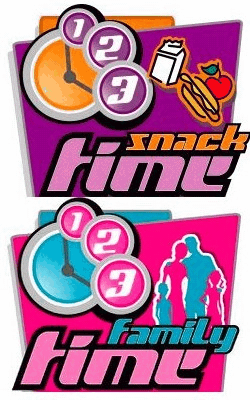 Creative Ministry Group: 1...2...3... Snack Time and Family Time!! Combo Pack Download
25 Great Snack Ideas PLUS 7 Fun Family Events!
1...2...3... Snack Time
Transform food into snacks right in front of your kids' eyes! Cooking transforms food. Once food is transformed it doesn't return to its original state! God wants all our lives to be transformed in the same manner. This book will help you become a chef and feed your kids scrumptious food for their souls and stomachs! Food is something kids love... something they can smell, touch, feel and see... something they can make a mess with, play with and EAT!
1...2...3... Snack Time is full of recipes, bible stories and applications, tips, jokes and trivia.

1... 2... 3... Family Time!
When family members spend time together, it creates a sense of security and good feeling about each other. Sounds easy, and yet the family of today is overcommitted and has very little resources left for each other. Family time is planned by TV Guide, and parents are more aware of what is happening on prime time than in their kid's life!
1... 2... 3... Family Time! can help churches help families reclaim "family time"!

Members save when they purchase both books together!

This download resource is available instantly after purchase by clicking on My Downloads at the top of any page.
---
Related Products